Evolve Integrated Massage Training is an NCBTMB provider of massage therapy continuing education. Founded in 2016, EIMT offers engaging courses incorporating anatomy, kinesiology, physiology, and massage therapy techniques. Courses offerings include:
Neuromuscular, integrated, and Thai massage
Common client conditions
Foundational concepts
All courses are limited to 8 participants. The small class size allows for more individualized instruction, as well as open exchange of ideas. Courses can be tailored to meet the specific needs of the individual students or groups.
MJ (Mary Jane) Kennedy, LMT, RTT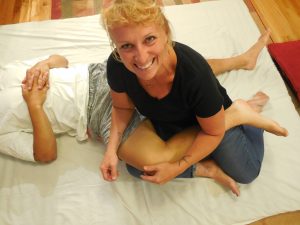 MJ (Mary Jane) Kennedy (formerly Calvert) is a Licensed Massage Therapist (LMT) and Registered Thai Therapist (RTT), and is the owner of Evolve Integrated Massage Training. She is an experienced educator in developing and delivering instructor led-training in massage therapy and is an NCBTMB Approved Provider for continuing education. With over 1,400 hours of education and over 10 years of practice in Swedish, Therapeutic, and Thai Massage, she is highly skilled in the following modalities:
Swedish Massage, including Effleurage, Petrisage and Tapotment
Orthopedic Massage/Deep Tissue Massage
Traditional Thai Massage
Trigger Point Therapy
Myofascial Release
Post-Isometric Relaxation (PIR) Techniques
Osteopathic Techniques
Facilitated Positional Release (FPR) and Strain-Counterstrain
Lymphatic Drainage for Sports Injuries
Cranio-Sacral Techniques
Postural Assessment
Intra-oral TMJ Treatment
Accupressure Point Techniques
Sports Event Massage
Chair Massage
Massage Therapy and Training are MJ's greatest passions. Combining her two passions, she is able to develop continuing education courses to inspire other massage therapy practitioners to develop the skills and techniques to treat their clients. View Full Instructor Bio.
Philosophy
"To offer engaging massage therapy courses incorporating anatomy, kinesiology, pathology, and massage techniques, that inspire massage therapy practitioners to develop the skills to effectively and efficiently treat their clients."